Expoalimentaria 2013
-Expoalimentaria is the largest international trade show in the region that highlights food and beverages, machinery, equipment, inputs, containers and packaging, services, restaurants, and gastronomy. It has become the focal point of exporters and select buyers from all corners of the globe.
Over 25,000 professionals will visit the complex, ones who are producers, food manufacturers, importers, exporters, and suppliers of a range of services and food processing machinery. Likewise, more than 500 South American exporters will display their merchandise using innovative trends and state of the art technology.
In its third edition, Expoalimentaria 2011, generated over USD 471 million in business transactions, almost 6 times the USD$ 69.1 million generated in the 2010 edition. 538 exhibiting companies participated from 23 countries and had contact with over 1700 international buyers from 58 countries.
Expoalimentaria is becoming the sector's main business platform: an excellent opportunity to do business with the world!
PERU: STRATEGIC SUPPLIER FOR THE WORLD
Excellent location in Latin America to do international business.
Peru has more than 20 international agreements with major economies of the world
2,577 million new buyers from around the world are consumers of our products.
3rd largest country in South America.
Great diversity thanks to the variety of microclimates
Best country to invest in South America and Nº36 in world ranking on the overall ease of doing business (Doing Business 2011)
Boom in the Gastronomy Sector
PERU: INTERNATIONAL RECOGNITION
1st exporter of asparagus and paprika in the world
1st eroducer of fishmeal and fish oil
1st exporter of organic banana and coffee
1st in quality of organic coffees
2nd exporter of prepared asparagus
3rd exporter of preserved pepper
4th exporter of coffee
5th exporter of mango
5th exporter of avocado
7th exporter of giant squid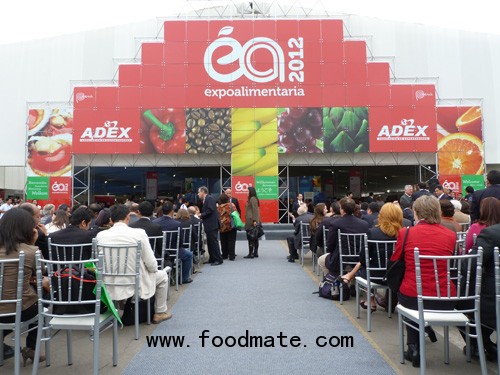 Why exhibit ?
The exhibitors you will find at Expoalimentaria are companies, business and producer associations, or governmental organizations that offer products and services within the agricultural, agro-industrial, and fishing sectors as well as packaging, machinery, equipment, and services for the food industry and foreign trade.
Being an exhibitor in Expoalimentaria will allow you to:
Exhibit exportable goods through a unique international business platform
Launch new products or services during a food industry event
Strengthen trade relations with clients in the region
Contact potential clients to diversify target markets
Increase international client portfolio
Identify new strategic partners and/ or representatives in the region or the rest of the world
Learn about new technological trends and developments in the food industry
You will have the following benefits:
As an exhibitor in Expoalimentaria 2013, you will give your company the opportunity to:
Exhibit your products/ services in the chosen area
Get in contact with more than 2000 international buyers from every corner of the globe and over 30,000 professional visitors from the sector
Send VIP invitations to your main clients
Get a special invitation for the event's opening cocktail party
Exhibitor vehicle pass
Use the auditorium to give technical lectures to your clients (1)
Promote your products during the Food Fair (2)
Be a part in the Expoalimentaria 2013 printed directory (approximate print run: 5000 copies) (3)
Appear on our website as part of a list of exhibitors
Possibility to purchase additional publicity in the Expoalimentaria 2013 directory and the El Comercio supplement distributed prior to the fair.(4)
Contact Details
Contact Person:Karla Vivanco
Telephone:+51 6183333 ext.:4214 / 5232
Email: