oils + fats 2013
-Vegetable and animal oils and fats are a growth market and one that is becoming ever more important. As the world´s only dedicated trade fair for the technology and trade in oils and fats informs the oils+fats about new technological developments, shows the whole spectrum of products and services and presents also the latest trends.
The show takes place on 3 days at the Messe München exhibition center parallel to drinktec – World´s Leading Trade Fair for Beverage and Liquid Food Industry.
Exhibitors and visitors are pleased with the direction the fair has taken. Visitors make their way to Munich from approximately 50 different countries, bringing the proportion of visitors from outside Germany to almost 60 percent – a figure which represents a further significant rise in international interest. For this reason in particular the exhibitors at oils+fats greatly value the event, as a unique opportunity to meet customers from all over Europe. The high level of expertise among the trade visitors also came in for special praise from the companies exhibiting at the fair.
The visitors also rating the oils+fats as a success: According to a representative survey conducted by GMM Gelszus Messe-Marktforschung 85 percent of the visitors would recommend oils+fats to business partners. Top marks were also given of the visitors to the international spectrum of the exhibitors and to the opportunity for networking at the fair.
For Exhibitors
oils+fats is the only international trade fair for the Technology and Trade of Oils and Fats
Don't just talk about trends and technologies – experience innovations: live!
Decision makers and business managers from all areas of the industry and from all over Europe get together at the oils+fats trade fair.
Within a short time, the trade fair has become indispensable – as a platform not just for innovation, but also for information and communication.
Exhibit - generate business - be part of the growth
Oils and fats from renewable resources represent a growth market, the significance of which is constantly increasing.
oils+fats is the only trade fair worldwide for this industry. This exhibition provides the oils and fat industry with the unique opportunity to present new systems and plants to an expert audience. This is much more than a congress can offer.
Not surprisingly, manufacturers of oils and fats from all over Europe come to Munich in order to gather information on new technologies and to prepare investment decisions.
Exhibitors at oils+fats do not just talk about business – they generate business.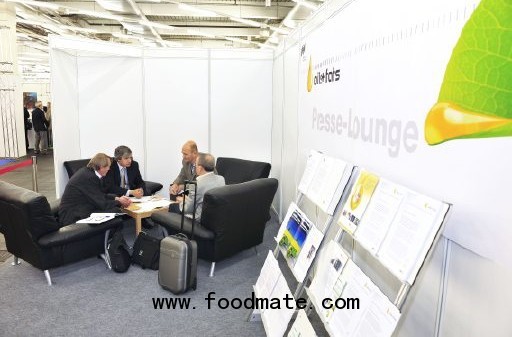 To be more specific:
Invest three exhibition days for the future of your business
Show customers what your company has to offer: products, technologies, services
Gain new markets, get to know potential customers and find out more about their wants and needs
Prepare or – even better - conclude contracts right at the trade show
Benefit from new contacts and cultivate existing relations
Analyze the competition and enhance your profile
Contact Details
Contact Person:Johannes Manger
Telephone:

Email: