Food & Hotel Thailand (FHT) is the premier international food & hospitality trade show in Thailand today. FHT serves its industry by delivering an international exhibition, premium food & hospitality products and services, international industry events, conference and networking opportunities and trade buyers all under one roof.
FHT gets strong and exclusive support from leading industry associations in Thailand. Working with these associations together with FHT's marketing and press activities ensures FHT delivers trade professionals from hotels, restaurants, importers, distributors, retailers, manufacturers, chefs, sommeliers, baristas and many more.
FHT2013 will celebrate its 21st anniversary and after selling out last year will be moving to a bigger venue. Make a date with FHT2013 at BITEC and celebrate with better business.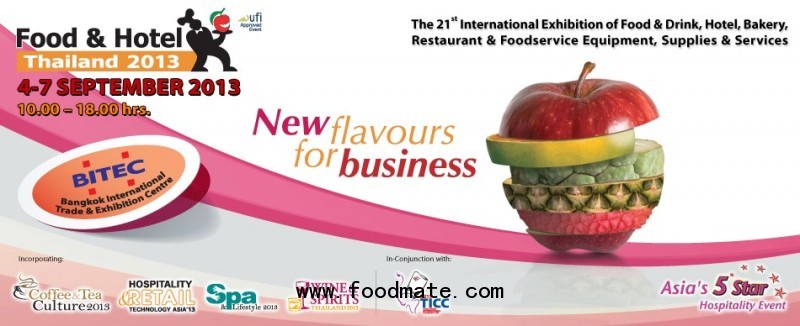 Show Information : Food & Hotel Thailand 2013
Show Title : Food & Hotel Thailand (FHT) 2013
The 21st International Exhibition of Food & Drink, Hotel, Bakery, Restaurant & Foodservice Equipment, Supplies & Services
Including :
Thailand's 15th Hospitality Industry Congress organised by the Thai Hotels Association (THA)
Thailand's 19th International Culinary Cup (TICC) 2013 co-organised by the Thai Chefs Association (TCA)
Thai Restaurant Association Seminar
Thai Retailers Association Seminar
Hotels & Building Chief Engineering's Club Seminar
Executive Housekeeper Association of Thailand Conference & Competitions
Thai Spa Association Seminar
FBAT International Wine Challenge
Bartending events
Coffee & Tea events
Hospitality & Retail Technology events
Wine & Spirit events
Official Supporters :
ASEAN Coffee Federation
BARISTA Association of Thailand
Food & Beverage Association of Thailand
Food & Beverage Management Association of Thailand
Hotels & Buildings Chief Engineering's Club
Hotel Public Relations Association
Ministry of Tourism and Sports
Thai Chef's Association
Thai Hotels Association
Thai Restaurant Association
Thai Retailers Association
Thai Spa Association
Thailand Convention and Exhibition Bureau (TCEB)
The Executive Housekeeper Association of Thailand
Tourism Authority of Thailand
Venue : BITEC, Bangkok Thailand
Duration : Wednesday 4 – Saturday 7 September 2013 (10.00 – 18.00 hrs.)
Total Area : 15,000 Sqms. (Gross space)
Show Information : 20th Edition
No. of Participants : 271 from 27 countries
Total Trade Visitors : 26,962 from 66 countries
PR. Package :
Product write-up in online show preview
Free exhibition directory and online listing
Free business to business matching scheme
Admission Policy : Trade Only
Contact Details
Contact Person:Supaporn A. (Gook)
Telephone:

Fax:
Email: